Exam week now and next week is practical exam. Busy studying and hugging last minute Buddha's foot.
Just wanna say I really hate those 適当人間. I reallyyyy hate the word 適当. They use it so liberally that i started to call them 適当人間. And 適当 by the way doesn't mean that they are "just right" like the meaning in chinese. Instead it has a negative connotation of being "not giving 100% effort". Half-assed shit people.
I really hate this kind of people! Especially when doing paired assignments. I put in effort to do something and i expect you to do the same. And that's not all. Getting dumped the other job of writing with just a "can u write it?" without a trace of remorse, when again, it should be a joint effort.
Why do I always have such shitty incompetent partners who can't even read notes properly and need me to tutor.
Fortunately(?) (I'm not even sure if this is fortunate or not), I have foreseen such situation will arise and have already done the writeup during the two months summer holiday.
I really dont see how difficult it was to write something, to practise your part when there's so much time during the holidays, rather than panic now and keep saying "oh no oh no how how??? i didn't practise" that kind of excuses.
Saying "i won't drag you down. I will work hard" is nothing but just empty hackneyed expressions so commonly used in the culture to create a sense of false hope in the already uncomfortable situation.
I want to see results instead. NAO NAO NAO. I want to box her face already. DIE YOU.
I shall end with something happier. what else but pics?
Pink/Red Army boy. I need to cut hair soon.
Breakfast for the day.
I was checking out the juices and teas when the obasan told me that if i wanted smaller juice packs, it's on the other shelf. Decided on tea and she said she expected me to take juice and when I chose tea, it was refined taste. HUH? (お兄ちゃん、渋いですね)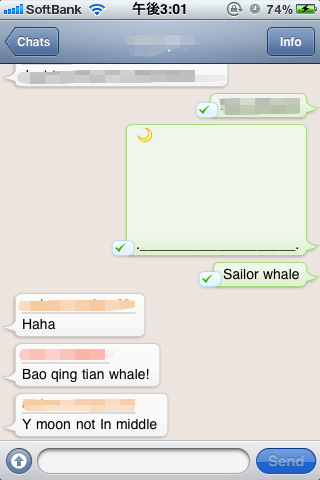 Was scolded for showing the names. So censored :x
Group photos.
Omiyage from sensei. Jiji with his hands up so cute :)