I am being forced to move house and searching for an apartment is such a headache.
I found one that I like. Went to take a look.
Good location: Near school. Accessible from lots of train lines. Is walking distance from the anime/manga/electronic heaven, Akihabara.
Plus it fits my most important criterion: Music instrument OK.
Let me show the floor plan and photos that I've taken there.
It's so nice. I like the kitchen. Can put lots of things. My "kitchen" now is ridiculously small and I have to stack my cups/plates and pots and pans ON the stove because there's no place to keep them. The bathroom also has lots of storage space for all my rubbish. Room is moderately sized but without closet. And it faces the south.
The negotiation went well and I was already planning to move in during the winter break (now) if everything were to proceed smoothly. But in the end, the realtor company Mitsui said they won't take foreigners!!!!! Wtf. They cited bad past experience with renting to foreign students, saying they left japan halfway and left the remaining rent unpaid. Some also passed their apartment keys to friends and allowed them enter the building freely when they were not the contracted individual. Damn those black sheep! And because almost all the apartments that fit my criterion are maintained by Mitsui, it means they won't rent any of those to me too :(
A second place I found through another agency was very cheap and very near to where I am staying now. Not much difference in shaving off travelling time to school. 10 mins at most.
It's a bit old but I do love the partitioned areas (actually two rooms, sliding doors) and the super huge storage spaces. Though in reality, i'm not a fan of such spaces (see pic below). It reminds me too much of Japanese horror movies…. I may be a fan of horror. But only in movies. Not in real life! But then I was already picturing where to put my stuff in the two rooms when being shown around…
Sadly, i am not a fan of the toilet. It looks so depressing. I think is the tiling effect. Like in jail. The mirror is SO SMALL. I cannot forgive this! No hot water from the tap. WINTER HOW TO WASH FACE!! Fingers all no feeling in freezing water. Only good for reducing pore size. I asked the guy who brought me here, he apologised, ya no hot water. fullstop. The bathtub thing…. no comment. It heats up the leftover bathwater so you can soak a second time. But how to sit/lie down in that thing. You can install a heater for bath but cant lay pipes to direct hot water to a wash basin? Okay i very picky about toilets.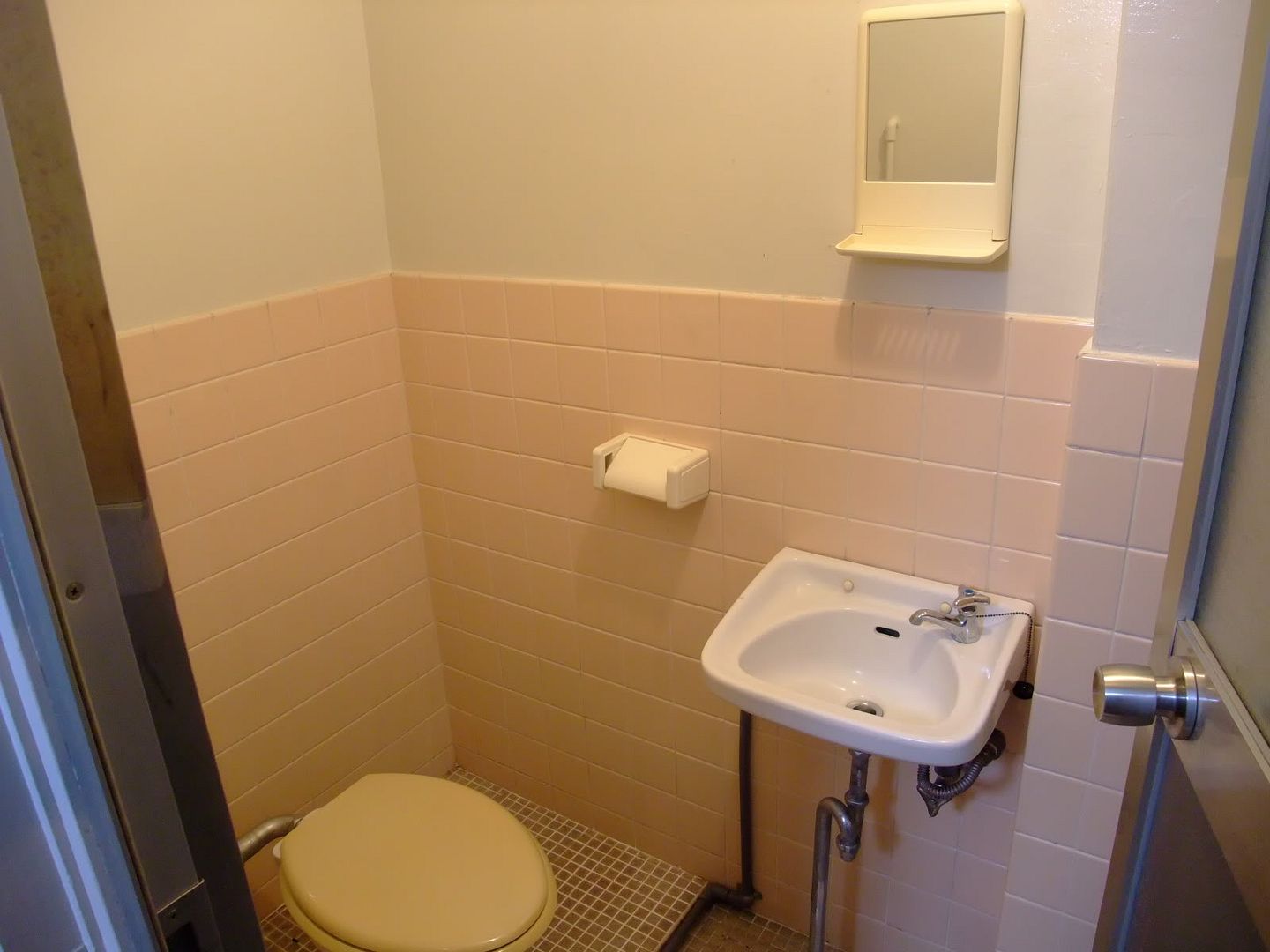 What's worse was I spotted a cockroach crawling in like it's king of the house from the ventilation fan above the kitchen sink, which was located beside the entrance. Means the corridor outside has cockroach!!!!!
For the whole length of time of staying at my current place, I have never seen ANY cockroach at all.
If there's one, there's a whole nest somewhere. I really don't want to have a bug situation -__-
So i guess I won't be taking this apartment after all. Made up some excuses and left :x
The first agency also recommended me two more apartments after the one that I like failed. *shakes fist at Mitsui*
Going to see it on 5th Jan after the current tenant moves out. It's also at the same neighbourhood as the 2nd apartment (with roach) mentioned up there. So i guess it's near my current place too.
This is how the floor plan looks like.
I am intrigued by the doorless bathroom design. Segregatable with curtains. NOT COLD MA? Water wont splash one? Knowing me, I'm very likely to make the whole place wet even with curtains .__.
And it directly faces the terrace/patio, whatever it's called in english. An "open concept patio is the attractive feature", it says on the paper. Good for drying laundry i guess. Also good for exhibitionist.
The bedroom also has a curtain rail like the bathroom area, probably serves as a partition for closet/storage. Notice it doesn't have any storage space at all!?
The realtor sent some photos of the place to the agency and they forwarded to me. It does look very nice though (but very smallish).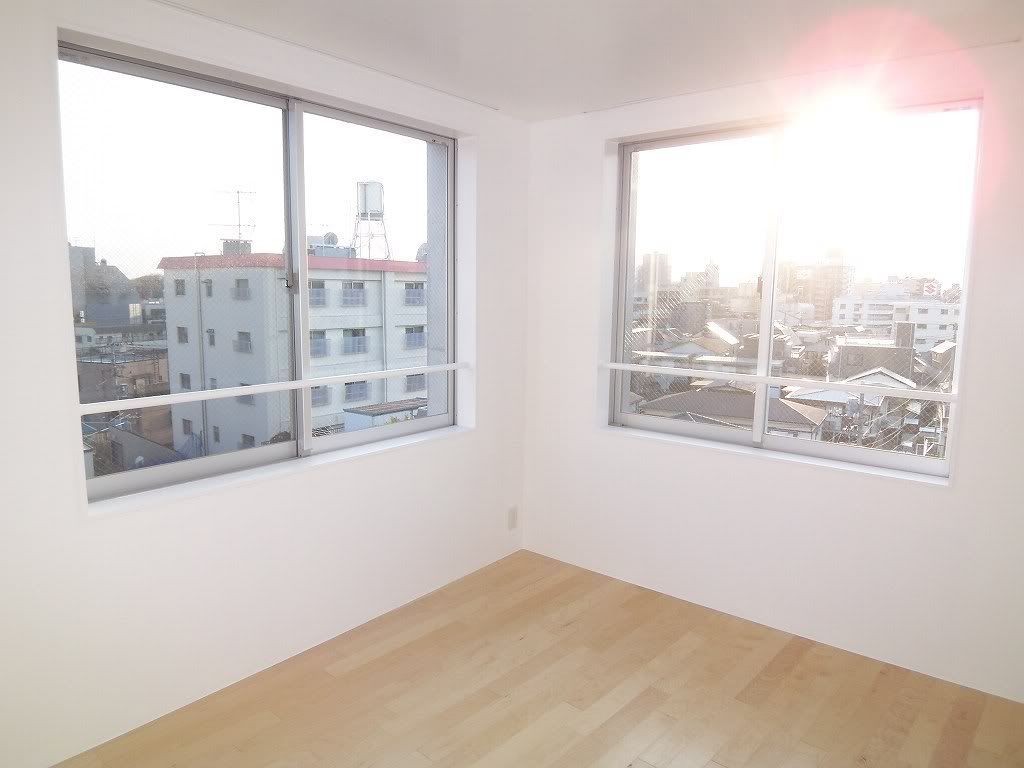 I'm sad that the kitchen has no built-in drawers and cupboards. Means gotta spend money to buy :x
The bathroom is NICEEEEEE. But it's as described in the floor plan - no doors!! Mama said since i'm living alone, never mind LOL
I also like the double windows. And the window in the kitchen. Shall see how it really looks like next week.
The other apartment that was recommended to me also looks promising from the floor plan.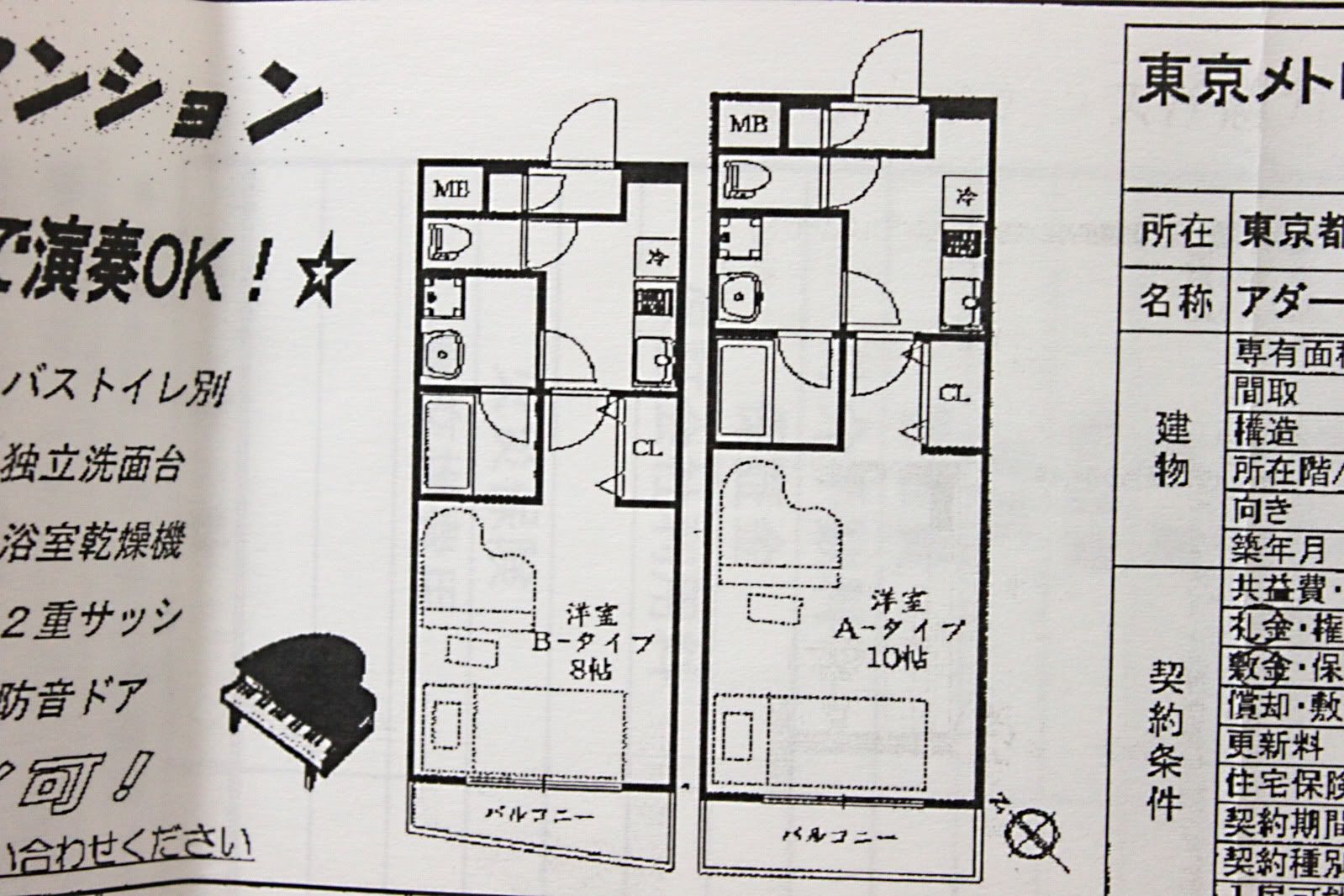 Grand piano OK, sound proofed. Definitely good. Kinda near school but not much accessibility from different train lines. Checked google maps and the surrounding is ok. Typical japanese neighbourhood. Not as nice as what i have here now though. I have a really good shopping mall that sells every necessities, the three main telco, bank, post office under one roof + it has a gym leh :0 Gotta adjust to a change of "lifestyle".
Best part it allows playing from 8am to 11pm!! Longest hours I ever gotten from my search. Usually only until 8pm.
Only worry is it faces south-west. West is the worst. South is the best. But south-west i'm not sure how bad it can be during evenings and summers. The building might get heated up also (air con bill up). I can only go view the show house in Feb because it's still being built Orz. So no interior photos as reference also. Possible move in period is scheduled from March onwards. Probably good because I'll be having spring break then. Ideal is of course see the open concept one and keep it on hold until I see this one then decide... See which one better :x But i doubt it's possible for the agency to hold so long.
Frankly, I dont really need a balcony nor a bathtub. Just convert the precious space to bigger usable floor space and I'm ok with just a standing shower room that has toilet bowl and basin. No need to separate them into different "rooms". Like sometimes want to go toilet then go wash hand/shower, so mafan have to go out of toilet and go to bathroom.
Just this and everything else that I asked for i'll be glad.
But it's so hard to find such houses here sigh. God of House Y U NO GIVE ME DREAM HOUSE!