Really cute new phones from au.
They are the first android smartphones from the iida series!

iida INFOBAR A01. Iida sounds like it's a grammatically wrong "it's good", but it's was created using the first letter of the words
I
nnovation,
I
magination,
D
esign,
A
rt.
KDDI au spreads out its INFOBAR series with the hottest A01 model with a "Design infused with famed predecessor's DNA". Designed by Naoto Fukasawa, the new touchscreen INFOBAR features signature tile-like keys, hand-fitting structure, and palette of colors, including Kuro, Nishikigoi, Hacca, and Chocomint.
The device is powered by Qualcomm SnapDragon MSM8655 1.4GHz CPU, the INFOBAR A01 uses Android 2.3 Gingerbread and includes the iida UI [User Interface] which is a bit similar to the Windows Phone 7's tile style interface. It features a 3.7-inch touchscreen with the resolution of 540×960 pixels, a 8 Megapixel rear/main camera, GPS, Bluetooth 3.0, Infrared as well as Wi-Fi. The phone supports integrated 1Seg TV tuner for users to watch TV on the move. It has 1.1GB internal storage and supports microSD/SDHC up to 32GB. The A01 also supports Global Passport sustaining both CDMA EVDO along with GSM network, making it a world phone.
• Qualcomm SnapDragon MSM8655 1.4GHz CPU
• Android 2.3 Gingerbread
• 3.7-inch touchscreen
• 540×960 pixels
• 8 Megapixel
• Bluetooth 3.0
• Infrared
• Wi-Fi
• GPS
• Integrated 1Seg TV tuner
• 1.1GB internal storage
• microSD/SDHC up to 32GB
Not exactly the best specs, but it's so cute!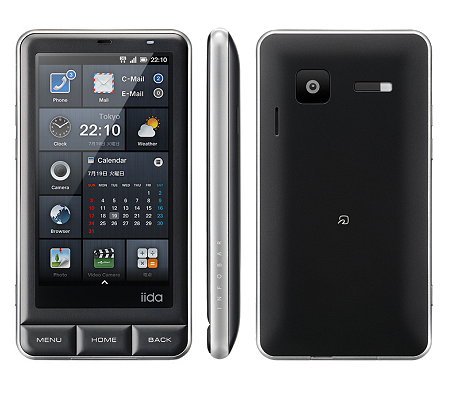 KURO(黒)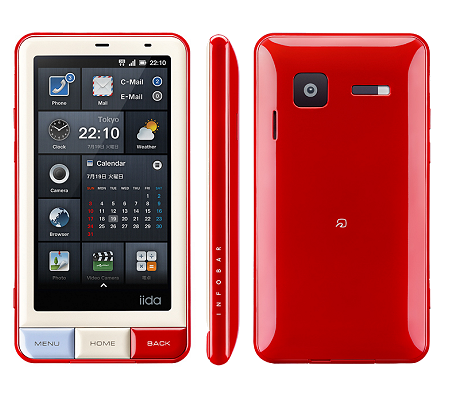 NISHIKIGOI(錦鯉)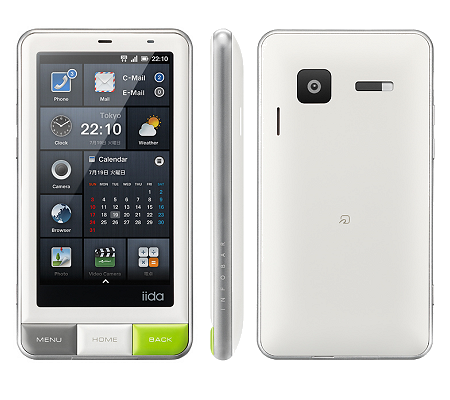 HACCA(ハッカ)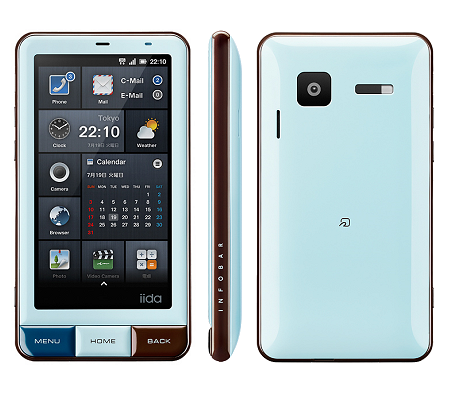 CHOCOMINT(チョコミント)